Greater Toronto Area call to action to participate in a study to improve patient care for people living with Spondyloarthritis.  Accurate and valid measures of spine range of motion are extremely important in the diagnosis and management of spine conditions such as axial spondyloarthropathy. Right now, clinical tape measures are used to determine the amount of back motion in forward and side bending.  But, there is some evidence to suggest that these measures are not able to completely capture the true motion occurring at the level of the spine bones.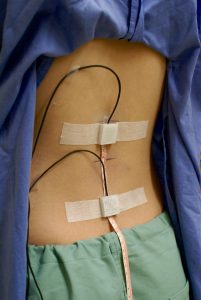 To address this issue, a research team from Memorial University of Newfoundland is partnering with the Canadian Memorial Chiropractic College to study a new method of measuring low back bending, using accelerometer sensors, with the goal of improving patient care for those suffering from these conditions. This study will compare the traditional tape measures and new sensor method to spine range of motion calculated from plain film x-ray (gold standard).
Should the new sensor method be shown to be better than traditional tape measures this technology can be developed to improve disease management at both the specialist and primary care levels as well as provide options to improve rural and remote health care through applications in tele-medicine.
To achieve their goal, the team is now actively looking for people interested in participating in this important research study.  Specifically, individuals who have seen and are currently being followed by a rheumatologist for axial spondyloarthritis are needed.
The study session is expected to take approximately 1 hour of time.  The study location is at the Radiology Unit at the Canadian Memorial Chiropractic College (CMCC) in North York, Toronto (6100 Leslie Street, North York, ON M2H 3J1) from January to March of 2018. The collection will involve marking anatomy landmarks on the back with washable pen, taping sensors to the skin over the low back and having 5 x-rays taken in standing and bending (from the side and from the back).
Participants will receive a copy of their x-rays on CD (research grade only, no clinical report will be provided), a $10 gift card as a thank you for their time and parking vouchers at the facility.
This study has received ethics clearance from the Health Research Ethics Authority (Newfoundland and Labrador) and the Research Ethics Board at CMCC.
If you are interested in participating or hearing more about this research project, please contact: John Charles Snow BSc (Kin), Master's Student and Principle Investigator Phone: 709 687-4969 (cell),  Email: jcs505@mun.ca