Support groups are a great place to meet others, share and learn more about disease management. Our groups are a safe place for you to feel less isolated and alone! Leaders create a safe environment for everyone to share, lean on and move forward.
If you are interested in joining an existing group or starting one in your city/town, or would like information on how to start a group in your city/town, email  support@spondylitis.ca
We have recently started "virtual" group meetings to support Canadians across the country. Meetings are capped at 10 people so don't delay registering. We have a waitlist for each meeting. With growing interest in meeting with others virtually we will expand the option as we are able.
In addition to in-person and most recently virtual support groups, we have an active and engaged Facebook community. We welcome and encourage you to become active with what suits your needs!
COVID-19 Update:

The Canadian Spondylitis Association  cares about your health and the health of your loved ones.  In attempt to flatten the curve of the spread of the Coronavirus (COVID-19), the CSA is taking measures suggested by federal and provincial health officials to suspend public gatherings until further notice.
If you are in need of support – please reach out to your group leader or contact the CSA by email at support@spondylitis.ca
Alberta
Edmonton  
Virtual Meetups (Every 2nd Tuesday) 7-9PM
October 13th, 2020
November 10th, 2020
December 8th, 2020
January 12th, 2021
February 9th, 2021
March 9th, 2021
April 13th, 2021
May 11th, 2021
June 8th, 2021
One-hour Walk and Talk Meetups (every 4th Tuesday of the month 1pm-2pm)
October 27th, 2020
November 24th, 2020
December 22nd, 2020
January 26th, 2021
February 23rd, 2021
March 23rd, 2021
April 27th, 2021
May 25th, 2021
June 22nd, 2021
Calgary 
Ontario

Hamilton
Toronto
Mississauga
Ottawa
Virtual Support Groups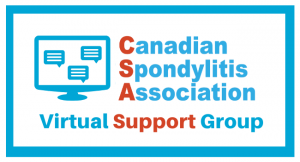 Feeling isolated and want to speak with others? The CSA is beginning to hold virtual group meetings to support Canadians across the country. We are piloting sessions on May 23 and June 6.
Register Below:
May 23rd: https://may26virtuamtg.eventbrite.ca
June 6th: https://june6virtualmtg.eventbrite.ca